Over the last 10 years BMC2 has achieved a dramatic improvement in referral to cardiac rehabilitation, from 64% in 2010 to 92% in 2020. However, significant opportunities remain to improve utilization of cardiac rehabilitation once a referral is made.
Our Goals
Share best practices to improve cardiac rehabilitation use after PCI, TAVR, and cardiac surgery, across sites in Michigan through collaborations between BMC2, the Michigan Value Collaborative, and MSTCVS-QC.
Remove financial barriers to patient use of cardiac rehabilitation.
Improve safe access to the benefits of cardiac rehabilitation amidst the COVID-19 pandemic.
Our Activities
We've established and regularly convene a group of physicians and other cardiac rehabilitation personnel from BMC2-PCI and Michigan TAVR hospitals.
We track physician/provider endorsement of and referral to cardiac rehabilitation.
We meet with BCBSM leadership to discuss ways to understand the financial barriers patients face and discuss ways to reduce this barrier.
We issue reports on cardiac rehabilitation utilization and trends in improvement over time, in collaboration with the Michigan Value Collaborative.
Image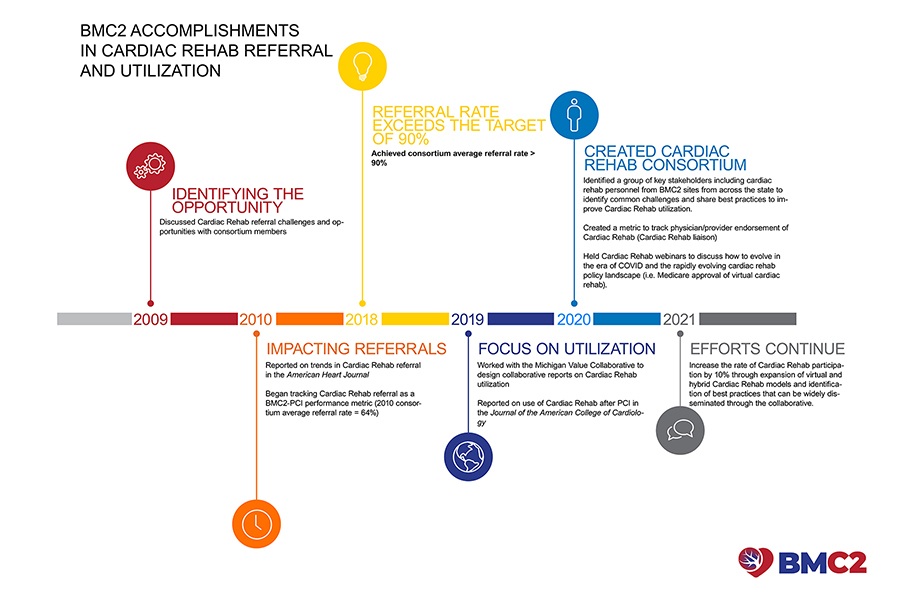 Risk-Standardized Rates of Cardiac Rehabilitation Use by Hospital
Image

Access resources from the Million Hearts Initiative here.