Over the last 11 years BMC2 has achieved a dramatic improvement in referral to cardiac rehabilitation, from 64% in 2011 to 90% in 2020. However, significant opportunities remain to improve utilization of cardiac rehabilitation once a referral is made.
Since 2019, BMC2 and the Michigan Value Collaborative (MVC) have been working together to improve cardiac rehab utilization. This collaboration has led to the creation of the Michigan Cardiac Rehab (MiCR) Network. MiCR aims to equitably increase participation in cardiac rehab for all eligible individuals in Michigan.
Our Goals
Share best practices to improve cardiac rehabilitation use after PCI, TAVR, and cardiac surgery, across sites in Michigan. 
Increase enrollment in cardiac rehab from 30% to 40% by 2024 for all eligible conditions.
Resources
The MiCR Best Practices Toolkit is your guide to strategies to improve cardiac rehab enrollment and attendance. Outlined in the toolkit are initiation, maintenance, and innovation strategies all designed to aid you in helping your patients get the most out of cardiac rehab.
The Million Hearts Initiative has developed a Cardiac Rehabilitation Change Package. Utilize the package to help your quality improvement team put strategies and systems into place for improved care of eligible patients. In it you'll find change concepts and ideas, tools, and resources.
Our Activities
We've established and regularly convene a group of physicians and other cardiac rehabilitation personnel from MVC, BMC2-PCI, and Michigan Structural Heart Consortium (MISHC) hospitals.
We track physician/provider endorsement of and referral to cardiac rehabilitation.
We meet with BCBSM leadership to discuss ways to understand the financial barriers patients face and discuss ways to reduce this barrier.
We issue reports on cardiac rehabilitation utilization and trends in improvement over time.
Our Meeting Presentations
Image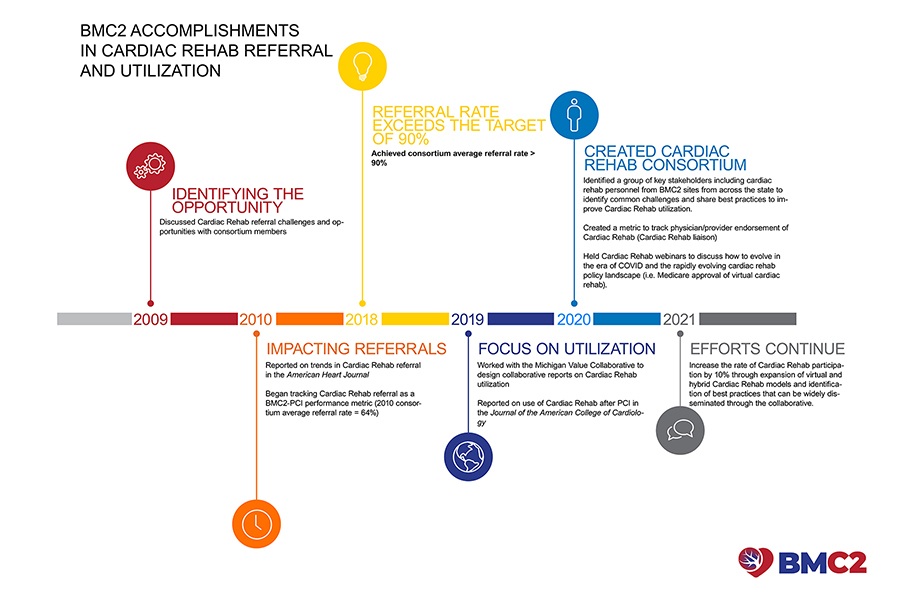 News
Check this section often for links to MiCR press releases, cardiac rehab papers, blog posts, and more.
Efforts of BMC2 and MVC Align to Form Michigan Cardiac Rehab Network - Value Partnerships Update, June 17th, 2022
Introducing the Michigan Cardiac Rehab Network! - BMC2 Blog, March 24th, 2022
Statewide Collaboration Aims to Save Lives by Improving Cardiac Rehab Participation - Michigan Medicine Headlines, February 9th, 2022
Cardiac Rehab Study from Sukul, et al Published in "Circulation: Cardiovascular Outcomes" - BMC2 Blog, January 28th, 2022
Site Spotlight - Beaumont Dearborn - BMC2 blog, November 29th, 2021
To Improve Outcomes for Patients After Angioplasty, this Initiative Got More Patients Into Cardiac Rehab Programs - Value Partnerships Blog, September 3, 2021
Site Spotlight - McLaren Greater Lansing - BMC2 Blog, January 28th, 2021