Image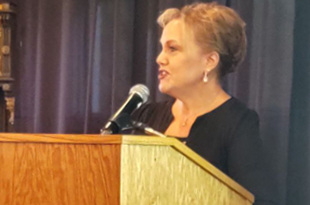 Carol Miller believes cardiac rehab is essential. It is one reason she joined the BMC2 PCI Patient Advisory Council. She remembers only a few details from February 9, 2019, the day she entered McLaren Port Huron Hospital and was diagnosed with an ST-elevation myocardial infarction (STEMI).
Carol arrived in the emergency department with a heart rate in the 40s and in cardiogenic shock. Her liver, kidneys, and pancreas had failed. Her troponin was over 79. She was transferred to the cath lab where she went into cardiac arrest and was treated by placement of a temporary transvenous pacemaker for a complete heart block. She underwent left heart catheterization and percutaneous transluminal coronary angioplasty and stenting of a totally occluded right coronary artery. After, she was transferred to the ICU.
Her nurse believed that Carol wouldn't survive, telling her son to say his goodbyes. After being released from the hospital, Carol enrolled in cardiac rehab.
According to Carol, the most important reason for BMC2 to partner with patients is so physicians and care teams can better understand what patients go through. "I would like to see parameters changed to enhance the consultations and education of the physicians. To see more cardiac patients enrolled in cardiac rehab." Carol stresses that cardiac rehab is beneficial in that it is both physically and emotionally supportive after the horrible emotional toll that a cardiac event takes on both patients and their families. 
5 months and 1 day after her cardiac event, Carol was back at work as a nurse. "I thank God and my team for helping me survive every day."
BMC2 is grateful for Carol's engagement in the Patient Advisory Council and looks forward to continued collaboration to improve patient outcomes.