Image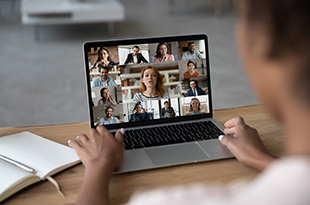 Thanks to all who attended our May meetings. Did you miss a meeting or do you need a refresher? Read our summaries.
The PCI Collaborative Meeting was held on May 12th from 6 pm – 8 pm. Spectrum Health's Dr. Ryan Madder, who is BMC2's PCI Strategic Advisor, welcomed attendees to the meeting and introduced the Patient Advisory Council's Lisa Cardillo. Lisa was a patient of Dr. Madder when she entered the hospital with chest pain and experienced cardiac arrest in June of 2017.
Lisa explained that this health event was one of the most profound experiences of her life and that she shares her gift of survival by raising awareness of cardiac health. In addition to helping BMC2 participants better understand the patient perspective, she is a volunteer for the American Heart Association and leads single hand CPR instruction. She says that when the team at Spectrum Health saved her, they also saved her family and that the greatest gift she was given was the ability to continue to be her kids' mom. She hopes that providers never lose appreciation for their ability to save a patient.
Lisa also stressed that being a survivor is difficult and that mental health services are needed as part of cardiac care and cardiac rehab. She is passionate about increasing access to cardiac rehab as she found it to be a game changer for her own life and recovery.
We thank Lisa for sharing her story with us and want to recognize our other patient advisors Andy Burdick, Greg Merritt, Carol Miller, Hal Morgenstern, and Crystal Mroz, for their dedication to working with us for continuous improvement of the patient experience. If you have a patient you would like to refer to the Patient Advisory Council, you can find more information on our website.
Dr. Stephanie Spehar of Michigan Medicine shared insight from BMC2 data during her presentation, "Persistent Racial Disparities in Risk of Readmission and Mortality after Percutaneous Coronary Intervention." We know that racial disparities exist in cardiovascular disease management and outcomes, particularly for PCI. Prior research suggests disparate outcomes immediately following PCI are attributed to comorbidity burden. Few studies have investigated racial disparities in long-term outcomes following PCI, or the role of personal and community economic factors in differential outcomes.
Dr. Spehar and her team put together a study that found that cardiovascular comorbidities are more prevalent among Black patients and that rates of cardiac rehab participation are substantially lower among Black patients. Black patients also had a higher risk of 90-day readmission and mortality. Future study is needed to investigate disparities in the post-discharge care process. You can view Dr. Spehar's complete talk on our YouTube channel.
Henry Ford Health System's Dr. David Nerenz presented "Actionable Things Health Systems or Care Teams do to Reduce Disparities in Care." Dr. Nerenz began his talk by explaining the differences between health equity and health disparities and health care equity and health care disparities. Health Equity/Health Disparities focus on the broad population level, including communities, areas, or health plan members and public health or community health metrics like disease incidence/prevalence, mortality, and life expectancy. Health care equity/health care disparities have a narrower focus including individuals as patients and specific health care services. They also look at quality of care concepts such as processes and outcomes. Health care has a relatively small role to play in population health but has a massive impact on the patients who are treated individually.
Dr. Nerenz shared that there is a huge amount of literature on health care disparities. He then outlined a handful of general strategies for eliminating disparities. The first of these strategies was process improvement, followed by enhanced care coordination or patient navigation. Disparities can also be reduced by cultural competence or implicit bias training for health care providers. Dr. Nerenz shared that enhancing access to care such as providing insurance coverage, eliminating co-pays, and providing transportation service, can also help reduce disparities. Finally, he suggested that multi-factor initiatives including simultaneous change in relevant policies, organizational relationships, communications strategies, and clinical processes, to name some examples, are met with great success.
In concluding, Dr. Nerenz stated that Michigan CQIs, including BMC2, are an ideal setting for disparity reduction. They provide rich data on patient characteristics, treatments, and outcomes. Analysis of registry data can help identify disparities in both treatment and outcomes as well as identify "best-performing" and "worst-performing" sites. Presentations from "best-performing" sites can suggest opportunities for improvement that can be adopted by all sites, and the CQI structure contains mechanisms for QI interventions aimed at reducing disparities and tracking the effects of these interventions. You can view the complete presentation on our YouTube channel.
Dr. Devraj Sukul shared slides that compare BMC2 and national data for metrics such as medications prescribed at discharge, radiation documented, and rates of transfusion post-PCI. Dr. Gurm, BMC2 Program Director and Director of BMC2 PCI, took a moment to say a huge thank you to the consortium for its role in BMC2 outperforming the nation on the metrics Dr. Sukul outlined. He explained that as the country has gotten better, BMC2 has gotten better at an even faster rate. This reflects the tremendous work that is being done at all of the BMC2 hospitals across the state and the effort of multiple team members. There is a whole army working to help improve care for patients and this is a testament to the commitment that we have across the collaborative. View our new video for a look at the metrics Dr. Sukul presented.
Case presentations on atherectomy and lithotripsy were given by Dr. Amir Kaki of Ascension St. John Hospital and Dr. Babar Basir of Henry Ford Hospital. The session began with poll questions on calcium management use and Dr. Sukul shared that there are new special reports on calcium management available on bmc2.org. You can work with your data coordinator to download and distribute these reports to your teams. Dr. Kaki presented "Calcified Lesion PCI" and Dr. Basir presented "A Complex Case of Coronary Calcification."
The meeting concluded with BMC2 updates from Dr. Gurm, BMC2 Program Director. Dr. Gurm started by thanking Lisa Cardillo for her powerful presentation. He expressed that patients are our best teachers and that everything we learn from our patients makes us better. He then shared news of our new initiative to collect de-identified images to create an archive to be used for training purposes. You can learn more about this initiative in our blog. Dr. Gurm shared that the new best practice protocols for Contrast-Induced Acute Kidney Injury and Radial/Ulnar Access Hematoma are now available on our website.
Thank you to all of our PCI Collaborative Meeting presenters and attendees. We look forward to November 10th at 6 pm when we will hold the PCI Physician Meeting at Cantoro Italian Market in Plymouth.  
The Vascular Surgery Physician Meeting was held on May 18th from 11:30 am – 9 pm. Attendees enjoyed lunch from 11:30 to 12:30 and were welcomed to the meeting by BMC2 Director of Vascular Surgery, Dr. Peter Henke, and Dr. Ash Mansour, who is the Medical Director, Michigan Vascular Study Group, the Society for Vascular Surgery Vascular Quality Initiative. 
Dr. Mark Bicket from Michigan OPEN presented "Optimizing Pain Relief After Vascular Surgery for EVAR and CEA" followed by a VQI data review from Dr. Mansour and a BMC2 data review by Dr. Henke. We then heard from Dr. Mitchell Weaver of Henry Ford Hospital who shared the MVSG Arterial Quality Committee Report. The MSVG Venous Quality Committee Report was presented by Dr. Mansour and the MVSG Research VQI Committee Report was given by Dr. Nick Osborne from Michigan Medicine.
Michigan Medicine's Dr. Drew Braet presented, "CIN in EVAR" and Dr. Paul Bove, from Beaumont Health, presented "ICAVL and Carotid Studies in MI."
After a break, we heard from Dr. Kush Sharma of Spectrum Health who presented "Advanced Tibial and Endo PAD Procedures. Following Dr. Sharma's talk, Henry Ford Jackson Hospital's Dr. Jordan Knepper shared "Management of Pulmonary Emboli" and Dr. Andrew Kimball from Spectrum Health presented "Updates in Aortic Dissection."
At 5:00 pm there was a break and a transition to the MVS Executive Committee Meeting for committee members and a cocktail reception was held simultaneously. Attendees were served dinner beginning at 6:00 pm and the evening speaker, Dr. Gilbert Upchurch, Jr., presented "My/Our History of Thoracoabdominal Aortic Repair." Dr. Upchurch is a Professor and Edward M. Copeland, III and The Ann and Ira Horowitz Department Chair at the University of Florida.
Thank you to all who attended the meeting. It was wonderful to spend time networking in person and we hope to have the opportunity to meet in person moving forward.