Image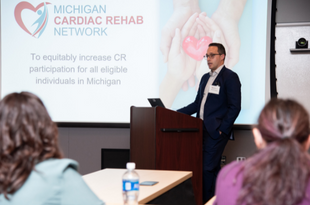 Did you miss a meeting or do you need a refresher? Read our October Meeting Summaries.
The Michigan Cardiac Rehab Network (MiCR), a collaboration between BMC2 and the Michigan Value Collaborative (MVC), held its inaugural Annual Meeting in Ann Arbor this month. Cardiac rehabilitation professionals from around the state were invited for networking and learning. 
Attendees benefitted from enriching presentations by our speakers, including consortium members, colleagues from Healthy Behavior Optimization for Michigan (HBOM), and a member of our Patient Advisory Council. 
Active participation in the discussion further contributed to a successful first meeting. Topics of the event were getting buy-in from clinicians and administrators, navigating insurance challenges, and developing patient and provider resources. 
We appreciate your partnership in meeting our goal of 40% cardiac rehabilitation participation for all eligible conditions by 2024. Utilize our website for resources to assist you, including meeting presentations and the MiCR Cardiac Rehab Best Practices Toolkit.