Image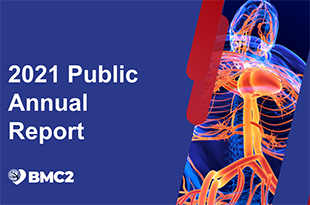 |
BMC2 Coordinating Center
We are excited to share our 2021 public annual report with you. This report provides a snapshot of the quality improvement achievements across BMC2 PCI, Vascular Surgery, and the Michigan Structural Heart Consortium, improving quality of care and outcomes for patients across the State of Michigan.
In it you will find:
Information on quality improvement goals in PCI, Vascular Surgery, and MISHC as well as outcomes and patient impact.
An introduction to the Michigan Cardiac Rehab Network, our partnership with the Michigan Value Collaborative.
Highlights of BMC2 publications and presentations.
A list of Best Practice Protocols released in 2021.
An explanation of the consortium's unique peer-review process.
A look to the future, including engagement of the new BMC2 PCI Patient Advisory Council.
We thank you for your dedication and partnership in these efforts and look forward to continued learning, sharing, and growth.
The BMC2 Coordinating Center