Image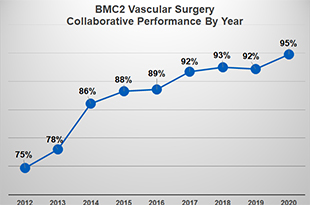 BMC2 Vascular Surgery has collected data on nearly 50,000 patients since 2012. Patients who take a statin after undergoing a vascular procedure may have reduced risk of death, reduced risk of heart attack and stroke, and long-term reduction in cost of care through prevention of major adverse events. For hospitals, expenses will be lower without the resources and care requirements spent on patients with complications that could be prevented by adherence to guideline recommendations.
The JUPITER trial1 found that patients taking a statin had a 54% lower chance of heart attack, 48% lower chance of stroke, 46% lower chance of needing angioplasty or coronary artery bypass surgery, and a 20% lower chance of dying from any cause, compared to placebo.
In 2016, BMC2 VS set a goal for sites to prescribe a statin at discharge in >80% of eligible patients. In 2018, BMC2 provided a forum for education and discussion on statin therapy at the BMC2 Vascular Surgery Collaborative Meeting, and followed up with review of data and performance on the goal at 2019 BMC VS meetings. Finally, in 2020, statin at discharge was set as a Pay For Performance goal with a target at greater than 95%, and there was continued data review of statin at discharge performance at BMC2 Vascular Surgery meetings.                                                                                                             
Hard work and dedication to this goal paid off. The consortium average performance on prescription of statin at discharge increased from 89% in 2016 to 95% in 2020, with nearly 3500 patients appropriately treated.
The national Vascular Quality Initiative has also set goals related to statin medications at discharge.  The Michigan region is the best in the nation, and significantly better than the VQI average, because of the foundation created by BMC2.
1From "The JUPITER Trial: Results, Controversies, and Implications for Prevention," by Paul M Ridker, 2009, Circulation: Cardiovascular Quality and Outcomes. Volume 2, p. 279–285.