Image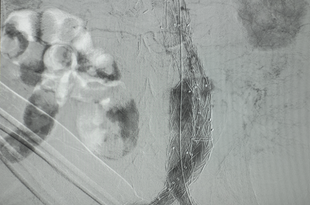 After endovascular aneurysm repair (EVAR), it is necessary to perform and document surveillance imaging – by CT imaging or duplex ultrasound – to monitor patients for graft migration, device failure, or endoleaks. Endoleaks, a persistent flow in the aneurysm sac after EVAR, have been found in >15% of patients more than 5 years after undergoing their procedure. Performing and documenting this surveillance imaging can prevent late rupture and aneurysm-related death.
BMC2 aimed to improve patient outcomes after EVAR and published the paper, "Variation in the Elective Management of Small Abdominal Aortic Aneurysms and Physician Practice Patterns" in the Journal of Vascular Surgery.  
The goal of the study was to analyze variations in the management of Abdominal Aortic Aneurysms (AAAs) based on diameter and determine the physicians' rationale for intervention on small AAAs in relation to recommended treatment guidelines. 
The authors reviewed 4 consecutive years of BMC2 data splitting patients who underwent elective endovascular or open surgical AAA repairs into two groups – those with guideline-sized AAAs at the time of intervention and those with small AAAs at the time of intervention. While there are well-established guidelines for aortic diameter thresholds, the study revealed variation at the hospital level and in the ways which physicians determine the management of elective AAA repairs. This demonstrates that, despite the established guidelines, providing uniform care for patients with AAAs can be challenging. 
This became a topic of presentation and discussion at consortium-wide meetings and BMC2 established the quality improvement incentive goal, "Documentation of 1-Year EVAR Surveillance imaging." Upon implementation, sites in Michigan improved surveillance imaging documentation by over 65% - from 24.69% in 2017 to 65.4% in 2021.

With this goal, providers performed and documented surveillance imaging more regularly, allowing them to catch and address problems before they resulted in life-threatening aneurysm ruptures. It also significantly increased the percentage of patients identified as having a follow-up procedure or endoleak. Additionally, 6 patients who did not have imaging performed and documented had a rupture occur while a rupture occurred in only 1 patient who underwent imaging surveillance and documentation.
A direct and significant impact on patient outcomes resulted from this review of BMC2 data and project implementation. It is an excellent example of how working collaboratively across Michigan has made the state one of the safest places to receive cardiovascular care.