Image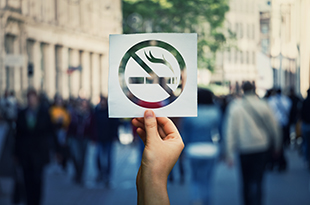 Mercy Health Muskegon's Quinten Davis, BSN, RN, along with teammates Brandi Whitaker, BSN, RN, Sammie Cunningham, BSN, RN, and Physician Champion, Justin Eisenberg, DO, has set a goal to increase documentation of smoking cessation counseling at discharge to 100% by utilizing physician-delivered advice, access to nicotine replacement therapies, and referral to a community-based smoking cessation counseling.

They met with the education department and viewed a presentation of smoking cessation educational tools currently used by other hospitals. They then drafted their own to be distributed in the pre-surgical folder provided for physicians' offices. They discussed nicotine replacement therapies and referral to smoking counseling services with physicians and discussed standardization of discharge paperwork, revising the smoking cessation text.

The team also contacted community health organizations and assessed the organization's focus on smoking cessation which led to in-depth detailing of smoking counseling services offered. As a result, the smoking cessation at discharge is currently 100% for physician-delivered advice and 14% for nicotine replacement therapies. While the Quit Line is utilized at 100%, the community-based smoking counseling services have been on hold due to COVID-19 and they hope to initiate those services in the future.