Image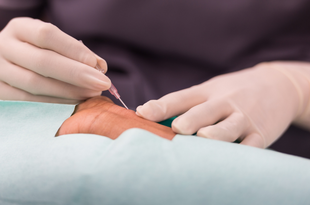 Before 2018, Corewell Health Beaumont Hospital Troy's rate of secondary access site vascular complications was low. When rates jumped from 0.9% in Q4 of 2017 to 6.5% in Q4 of 2018 and continued to rise, the hospital's PCI Quality Team set out to find the root causes of the change.
The team found several contributing factors. There had been an increase in Impella-supported high-risk left main PCI and in shock and instability in patients presenting with acute coronary syndrome (ACS.) Use of closure devices and radial access sites had led to a decrease in manual sheath pulls and knowledge of arterial site access management in the units. There was also an increase in new staff and in staff turnover. 
A plan was put in place with the goal of improving the registered nurses' arterial line pull skills and recognition of post-procedural complications. The cath lab staff, nursing staff, nurse educator, and nurse practitioners, along with cath lab and unit managers, provided education.
Expectations were set for the RNs including knowledge of the Corewell Health Beaumont Hospital Troy policy, a review of report hand-off sheets, use of validation checklists, and a critical care class passing score of a minimum of 86%.  Annual validation recertification in hemochron testing,  femoral arterial line removal, vascular band, brachial venous lines, and management of arterial line was also put into place.
Before validation, nurses were sent the policy, an arterial line-removal video, and expectations for arterial line removal and management. They also had the opportunity to shadow staff pulling lines in the cath lab. New employees were provided one on one education with a review of the policy and expectations on day one.
The New RN and Annual Validation includes a review of cardiac procedures, anatomy, and access sites. There is also a list of items the nurses must know to do after the review including:
Anticipate problems

Be prepared

Always have someone for backup assistance

Educate the patient on activity restrictions

Perform frequent vital sign checks per protocol

Document in EPIC

Act immediately and call cath lab/NP/physician for any arising complications
Nurses were reminded of the possible complications including hematomas/pseudoaneurysms, hemorrhage, retroperitoneal bleed, and peripheral vascular complications, and given information on how to identify them and what to do if any of them should present. Videos and photographs depicting complications were included in educational materials to show the possible severity of a complication.
Validation requirements were set for line removal with the first line pull completed by the educator with the nurse observing. For the second line removal, the new RN holds the line for 10 minutes of the line pull. For the third line, the new RN pulls the line with a certified RN or educator. For the pulls that follow, the new RN must successfully complete 10 to be certified for line pull and management. They must also successfully remove 5 Vascular-Band devices and 1 venous brachial line
Complications and hematomas are tracked on a regular basis. The educator, management, and cath lab review this information with staff every other month. This allows them to debrief and discuss complications to identify possible improvements and earlier detection.  There are also Impella representatives available to provide education and support.
As a result of this plan, and physicians and staff working together toward a common goal, Corewell Health Beaumont Hospital Troy decreased their secondary access site vascular complication rate to 1.7%. They continue to follow this plan and are always looking for more ways to improve. Their commitment to improving quality of care and outcomes for patients is clear and the impact will be great.