Image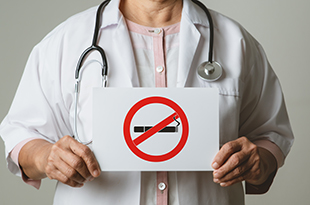 Bronson Methodist Hospital has been committed to improving their rate of smoking cessation counseling at discharge for years, making it their QI project in 2018, 2019, and 2020, after the 2017 rate was 19.6%.
A multidisciplinary performance improvement committee regularly meets to review data, morbidity, and mortality, and identify areas for improvement. This committee is co-led by Bronson vascular surgeons, including the physician champion for BMC2 VS. The remainder of the team includes representatives from nursing leadership from the pre-op, intra-op, and post-op areas, practice management, pharmacy, advanced practice providers, the service line director, database coordinator, quality and safety coordinator, and an administrative leader. The committee developed a scorecard on which they track smoking cessation and share the data along with the fallouts. Definitions are also shared each time the data is presented.
The team also partnered with the State of Michigan to build an e-referral to the State of Michigan Quit Line into their medical record system, which launched in July of 2019. The focus on this goal paid off—by the end of 2020, the smoking cessation counseling at discharge rate was 72%.