Image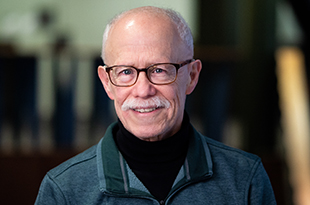 On the morning of Saturday, June 18, 2016, Hal Morgenstern sat up in bed to a sudden pain in his chest. Extreme perspiration and lightheadedness followed, and Hal's wife called for an ambulance. Within an hour of the onset of his symptoms, Hal arrived at Michigan Medicine's emergency department.  
Hal's diagnosis was a STEMI involving 100% occlusion of the left anterior descending (LAD) coronary artery. Another coronary artery was also occluded to a lesser extent.
In the cardiac catheterization lab, he had two drug-eluding stents placed in his LAD coronary artery. During the procedure, he required placement of an intra-aortic balloon pump to assist with his cardiac output and blood pressure and was then transferred to the Cardiac Intensive Care Unit.
Two days later, he had a second cardiac catheterization and two more stents were placed in the other occluded coronary artery.
While happy with the excellent care he received while in the hospital, Hal was initially angry in the ambulance ride to the hospital. As a prediabetic, he had recently participated in an intensive program designed to help improve his health and reduce his risk of diabetes. He modified his diet to reduce portion sizes and monitored his daily calorie intake. He also began getting at least 150 minutes of moderate to vigorous physical activity every week. He lost 60 pounds and was feeling great. The irony of the timing of his MI did not escape him. Why me, he asked, after all he had done to improve his health?
Following his hospitalization, he had a treadmill test and echocardiogram and saw the cardiologist who had supervised his care in the hospital. He was approved for cardiac rehab and every Monday, Wednesday, and Friday for 3 months, traveled to the Fitness Center at Domino's Farms. "I can honestly say that I looked forward to these sessions, which further motivated me to improve my health. It was indeed an excellent experience," Hal recalls.
Now, Hal is hoping to pass along what he has learned as a patient, by participating in the BMC2 PCI Patient Advisory Council (PAC). He would also like to share his positive experiences in the diabetes prevention program and in cardiac rehab with patients and their families to encourage them to enroll so they might also benefit from them.
Additionally, as a retired epidemiologist, who has studied the delivery and effectiveness of clinical care to patients with a wide range of conditions, he believes he could contribute to the work of other clinical researchers.
While Hal is still learning about BMC2 and its connection with patients, he appreciates that healing and health maintenance are not only about biomedical care involving doctors, nurses, and technicians; they require an understanding of how healthcare professionals communicate with patients and vice versa. "We need to confront difficult problems and find effective ways of intervening, for example, to prevent obesity, encourage the use of social networks, and get vaccinated."
One change he would like to see in healthcare is better-coordinated care among practitioners from different medical specialties who are not typically in regular contact with each other. He says that having a PCP and electronic medical records helps, but he still at times feels the need for more coordinated care.
He would also like to see a reduction in the frequent requests for completing surveys, not only in cardiac care. "I often find them to be time-consuming, redundant, not well designed, seemingly without a clear rationale, and never reviewed by clinical personnel, as far as I can tell."
Hal wonders if it would be possible and desirable for members of the PAC to have direct contact with selected patients and their families. For example, a patient or family member who has expressed anxiety about a procedure or hospital stay and may benefit from talking with a PAC member who had a similar experience.
He firmly believes that the PAC is a valuable component of a healthcare system that can enhance patient care. We are grateful to have him on our team and look forward to many opportunities for collaboration that will positively impact the future of healthcare for patients across Michigan.