Image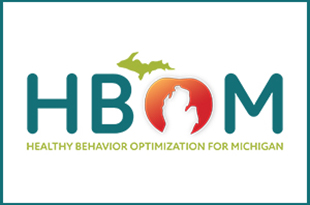 Facing a major health event like pregnancy, the need for surgery, or the diagnosis of cancer or a chronic disease, can lead to teachable moments for patients. Healthy Behavior Optimization for Michigan, or HBOM, is a new CQI that aspires to enable and motivate primary care and specialty physicians to design and work within systems that positively affect health behaviors.
HBOM believes that both patients and providers have an opportunity to teach and learn around these moments and make better choices about diet, exercise, and tobacco use, leading to long-term change. Their motto is to make the healthy choice, the easy choice. "Our goal is to provide hospitals, clinics, physicians, and other caregivers with the resources and support they need to promote healthy behaviors among their patients," said Dr. Tammy Chang, Program Director of HBOM.
The core team at HBOM includes physicians, health behavior experts, human-centered designers, informatics and marketing strategists, and program and project managers. The team believes that together with hospitals, clinics, and care teams across the state, they can optimize healthy behavior care for all Michiganders. BMC2 will partner with HBOM on initiatives involving cardiac rehab and smoking cessation. BMC2 is excited to partner with HBOM to help improve outcomes for patients.