Image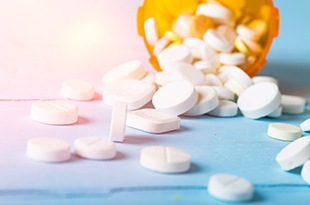 Michigan OPEN's mission is to change the trajectory of the opioid epidemic, finding transformative solutions through research, engagement, and evidence-based actions. BMC2 Vascular Surgery collaborates with Michigan OPEN to develop prescribing recommendations for patients who undergo vascular surgery procedures. In addition to working on prescribing guidelines, Michigan OPEN does community outreach, Naloxone training, helps patients with transitions of care, informs policy, and more. 
At our most recent vascular surgery meeting, Mark Bicket, MD, PhD, FASA, Assistant Professor, Anesthesiology and co-director of Michigan OPEN, gave the presentation, "Optimizing Pain Relief After Vascular Surgery for EVAR and CEA."
Dr. Bicket explained that in order to help patients through their recovery with fewer opioids, we need to give them some additional training. It's important to help patients understand what the process and procedure are going to be like and to set expectations around their procedure. We can also help by informing them about what is normal to expect and what they might experience that would be considered abnormal. This training can come directly through the surgical team or can be provided through materials that are given to patients. Perioperative teams also play a large role in shaping this for patients. It's important to think of this as a team effort, engaging the medical team as well as the patients' support systems. 
To support appropriate prescribing for vascular surgery patients, Michigan OPEN is offering BMC2 vascular surgeons the opportunity to participate in one-on-one counseling sessions. These sessions are tailored to meet the individual needs of the provider and provide unbiased, evidence-based information about medications and prescribing. Sessions are led by trained healthcare professionals. Participants will take part in a 30-minute session on opioid prescribing guidance specific to vascular surgery. CME and a $200 incentive payment are available to those who both participate in the session and complete a follow-up survey. Additionally, follow-up support is available upon request. If you have questions, you can contact Lyle Johnson at lyjo@med.umich.edu. You can express your interest in participating by filling out a brief form. 
Michigan OPEN also has a variety of brochures on these tools, opioid prescribing, and proper opioid disposal, as well as other customizable materials available on their website. 
An Acute Care Prescribing Guide has been created to help administrators and leaders drive behavior change within their health systems. This compilation includes resources specifically designed for a variety of stakeholders including patients, prescribers, and administrators/leaders. Inside you'll find information on using the guide as well as advice on counseling patients, one-page documents outlining acute care best practices, details on Michigan legislation impacting opioid prescribing practice, a link to key publications, and more. 
To access the free, downloadable guide, you must first fill out a brief form. The data collected helps Michigan OPEN better understand their audiences and includes information on what role you play in the healthcare system, how you plan to use the guide, and with whom you plan to share the guide. There's also an opportunity to indicate whether or not Michigan OPEN can send a short follow-up survey to help evaluate the usefulness of the guide. Visit the Michigan OPEN website to fill out the form. 
In 2019, BMC2 established goals to prescribe 10 or fewer pills at discharge for opioid naïve patients for elective CEA cases and elective EVAR, with performance targets ranging between 70-80% through 2021. In 2022, the goal was modified to decrease the number of pills prescribed from 10 or less to 4 or less in ≥70% of cases. 
We are excited to partner with Michigan OPEN to help address the opioid epidemic by prescribing patients fewer opioid pills, therefore introducing fewer pills into the community. More and more patients are asking about controlling pain using multi-modal pain relief methods such as meditation and mindful breathing. We are grateful we can help them better control their pain without the use of opioids, all resulting in better outcomes for patients and our communities.