Image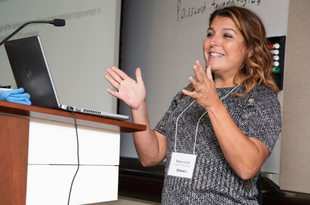 Did you miss a meeting or do you need a refresher? Read our September meeting summaries.
A PCI Coordinator Meeting was held on September 8th from 10 am – 3 pm at BCBSM Lyon Meadows, New Hudson, MI.
Dr. Troy LaBounty of Michigan Medicine presented "Coronary CT Angiography and Calcium Scoring", Dr. Brett Wanamaker, also of Michigan Medicine, presented "Chronic Total Occlusion (CTO) PCI: Challenges and Opportunities", and the Coordinating Center's Amy Shirato and Kathleen Frazier shared a data field review. We also welcomed Sarah Varitek from ABIOMED, Inc., who led us through an Impella Device Family Overview.
Patti Ratka, of Beaumont Troy, presented "Secondary Access Site Vascular Complications", and Spectrum Health Lakeland's Rebecca Dill shared her site's P2Y12 duration documentation project. The talk by Dr. LaBounty can be found on our YouTube Channel. It was a great day for learning and networking!