Image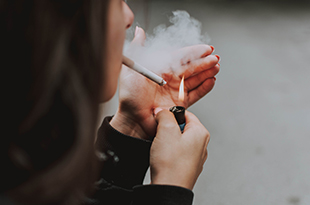 Smokers had their first angioplasty and/or stent nearly a decade earlier than non-smokers, and patients with obesity underwent these procedures four years earlier than non-obese patients. These findings, focusing on patients without a history of heart attack, are described in a recent report on cardiovascular risk factors by BMC2 (Blue Cross Blue Shield of Michigan Cardiovascular Consortium) and published in PLOS ONE.
Angioplasty and stenting are common procedures used to widen or unblock coronary arteries and restore blood flow. Traditional risk factors for these procedures include cigarette smoking, obesity, high blood pressure, high cholesterol, and diabetes.
Among patients in the study, almost all patients had at least one traditional risk factor, and most had three or more. Additionally, women generally had their first procedure at a later age than men. Over the past decade, among patients undergoing their first angioplasty or stent procedure, the rates of obesity and diabetes have increased, while smoking and high cholesterol have decreased.
"Smoking is a completely preventable risk factor," says Devraj Sukul, MD, MSc, the senior author on the study. "If we direct additional efforts at preventing smoking and obesity we could significantly delay the onset of heart disease and the need for angioplasty and stenting."
Smoking cessation is a growing focus of the Michigan Collaborative Quality Initiatives, of which BMC2 is a member.
"In Michigan, we will work to help every smoker quit at the time of cardiac care because it is an unmatched teachable moment for patients," says Michael Englesbe, MD, Collaborative Quality Initiatives Portfolio Medical Director.
BMC2 is a collaborative consortium of health care providers in the State of Michigan comprised of three statewide quality improvement projects:
A prospective multicenter statewide registry of consecutive percutaneous coronary interventions (BMC2 PCI).

A prospective, longitudinal multicenter statewide registry of vascular surgeries and carotid interventions (BMC2-Vascular surgery).

Michigan TAVR

,

a structural heart quality improvement initiative focused on

transcatheter aortic valve replacement

in collaboration with the Michigan Society of Thoracic and Cardiovascular Surgeons.
All projects are designed to improve quality of care and patient outcomes. The collaboration across BMC2 overcomes the barriers of traditional market and academic competition. All projects collect, audit and organize data and report procedural variables and outcomes to individual operators and institutions.
Support for BMC2  is provided by Blue Cross and Blue Shield of Michigan and Blue Care Network as part of the BCBSM Value Partnerships program.